4-axle open wagon with valveless floor type Eas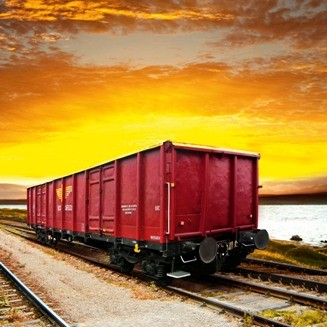 Technical description: The wagon is used for the carriage of bulk goods, packed goods and other goods that do not require protection against atmospheric impact.
The construction of the wagon allows mechanized loading and unloading operations through the use of lifting vehicles, including a wagon tipper.
The body of the wagon is a metal one, built from two lateral and two mobile front articulated walls. On each side wall there are two two-winged doors with a clearance of 1800 x 1900 mm. The floor of the wagon is made of softwood or is a metal one.
Pictures and drawings

Technical parameters
| | |
| --- | --- |
| Number of axles | 4 |
| Maximum loading (t) | 60 |
| Axle loading (t) | 20 |
| Tare weight (t) | 20 |
| Wheel base (mm) | 9 000 |
| Wagon length between buffers without brake platform (mm) | 14 040 |
| Usable length (mm) | 12 710 |
| Usable width (mm) | 2 780 |
| Usable area (m2) | 36 |
| Usable volume (m3) | 72 |