4-axle open wagon for carriage of ores and bulk goods type Eamnos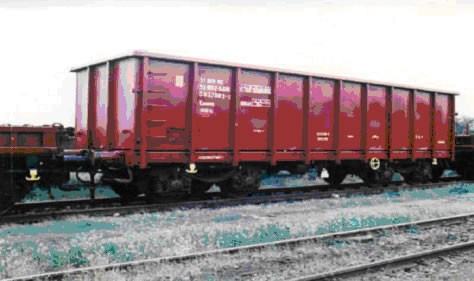 Technical description: The wagon is used for the carriage of ores and other bulk goods with a great relative weight.
The body consists of two lateral and two stationary front walls. One side of the wagon is a transitional one. The side walls have no doors.
The construction of the wagon allows mechanized loading and unloading on a side wagon tipper
Pictures and drawings

Technical parameters
| | |
| --- | --- |
| Number of axles | 4 |
| Maximum loading (t) | 61 |
| Axle loading (t) | 20 |
| tare weight (t) | 19 |
| Wheel base (mm) | 6 500 |
| Wagon length between buffers without brake platform (mm) | 11 630 |
| Usable length (mm) | 10 200 |
| Usable width (mm) | 2 750 |
| Usable area (m2) | 30 |
| Usable volume (m3) | 56 |